Pam Carter prints for sale
Limited edition framed Pam Carter prints for sale - click  here
SIGN UP to our newsletter
At Eilean Iarmain, you can be sure of a warm welcome and a safe environment. Book with us, ready to relax, and safe in the knowledge that we will do everything we can to make your visit safe and comfortable.

With guidelines surrounding COVID-19 frequently changing, please refer to our COVID-19 and Latest News pages for updates on hours and service. Mòran taing.


Read more>>
FAQs - Our updated FAQs can be found

here
Fàilte | Welcome to Hotel Eilean Iarmain
From relaxing in the cosy lounge with a crackling log fire to taking in the views from the historic pier, let the mystical allure of this special place wash over leaving you refreshed, inspired and ready to face your next challenge.
Enjoying a dram of our award-winning Gaelic Whiskies and Gaelic Gins in the traditional bar - don't forget to pop into the Pràban na Linne shop for your free tasting of the elixirs of delight!
For those seeking adventure, pull on your boots and grab your camera. Head out into Fearann Eilean Iarmain with Scott MacKenzie for a wildlife walk or other outdoor activity. No one knows this landscape better than Scott, so be prepared to be entertained and educated...and to make some lifelong memories!
Our Gallery, An Talla Dearg, is open from May until October with a rolling programme of exhibitions featuring Highlands and Islands work by artists including Jim Woodman and Derek Robertson.  Click on the images below to explore some more!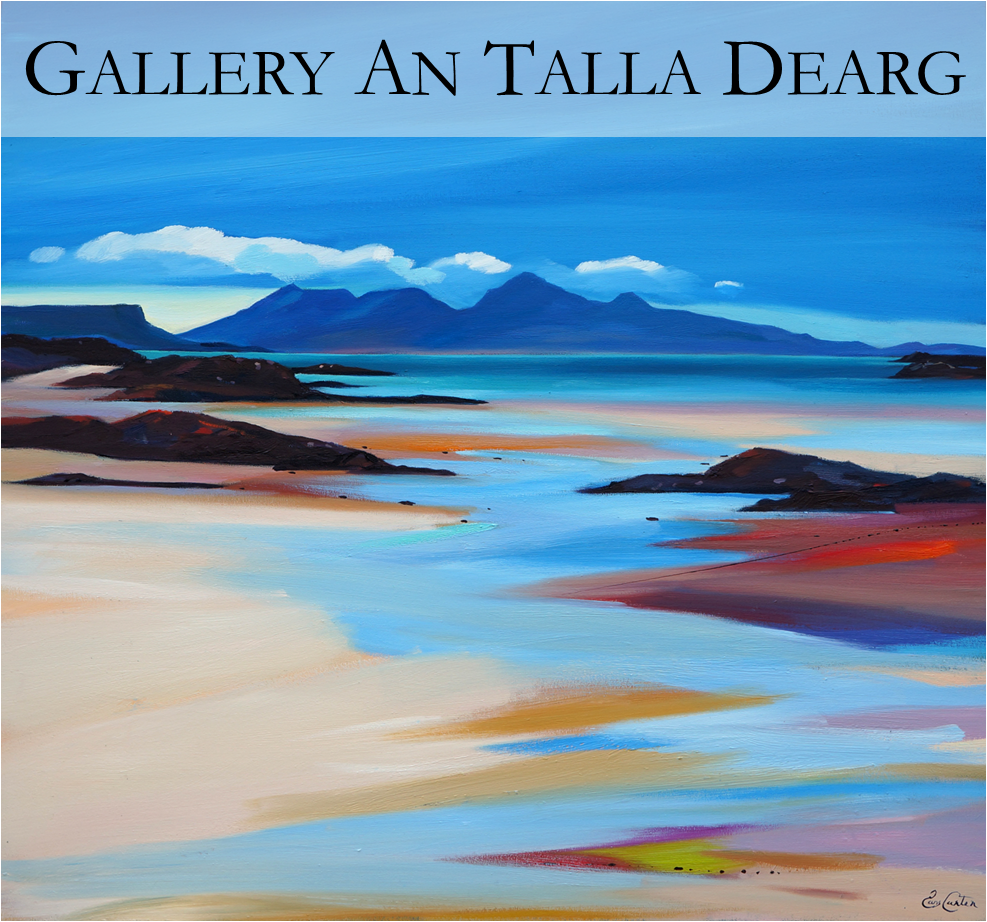 Food at Eilean Iarmain
Birlinn Restaurant
Log fires and candlelit dinners in our 'Birlinn' restaurant, selected for the Good Food Guide 2017, offers a mouth-watering menu, making use of as much local produce as possible. Local seafood and Eilean Iarmain venison accompanied by Skye-grown salads and vegetables often feature on our menu.
Find out more
Am Pràban Bar
Our traditional 'Am Pràban' bar offers hearty bar meals served in a relaxed atmosphere and in wintertime the open fire will add to the rustic feel.
Accommodation
Four Suites with stunning bay views and twelve bedrooms with individual character available all year round.
Find out more or click below to make a booking.
Dog Policy:
Well behaved dogs are welcome at Hotel Eilean Iarmain. We offer a selection of "Pet friendly rooms". Guests must notify the hotel at the time of booking to ensure they are allocated an appropriate room. There is a £10 supplement charge for bringing your dog.
Note: Certain rooms are kept "pet-free" in order to cater to guests who may have a dog allergy.
Communal Areas:
Dogs are not permitted in the restaurant.
Outside of food service, dogs are welcome in the bar.
During meal times dogs are not permitted in the bar. However, throughout the quiet season dogs may be permitted at the bartenders' discretion.
Well behaved dogs are welcome in the lounge area although we do ask guests to be aware that our cat, Bob may be in this area.
SIGNUP
to receive news, updates & offers.
Fabulous place!
Beautiful room overlooking the bay, stunning views and all the staff were so friendly and welcoming.
A gem!
Quaint hotel, the staff are exceptionally friendly and the service was second to none.
Sheer Bliss!
I only wish I could've spent longer here. As soon as I walked in the door you could feel the warm, welcoming, friendly atmosphere.