Beautiful Individual Rooms
There are six bedrooms in the Main House, each with its own individual character. Some rooms are wood-lined, and one has a 19th century canopied bed from nearby Armadale Castle.
All six rooms have complimentary facilities and a miniature of gold award winning "Tè Bheag" whisky, hair dryer, dressing gowns and direct dial telephone.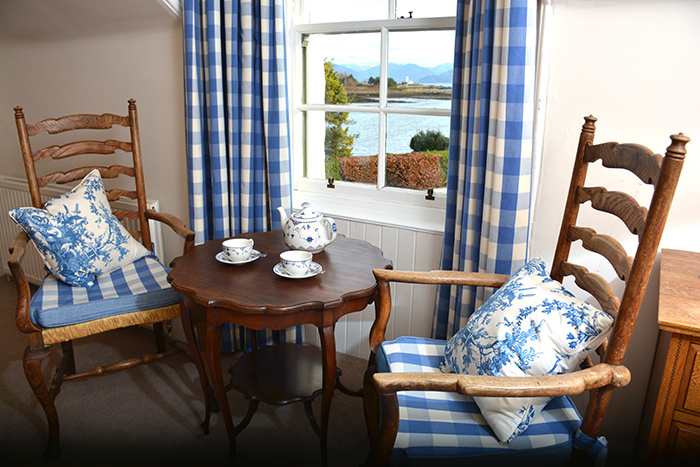 Additional equipment e.g. iron, ironing board and shoe cleaning material are available at the reception.
Dog Policy:
Well behaved dogs are welcome at Hotel Eilean Iarmain. We offer a selection of "Pet friendly rooms". Guests must notify the hotel at the time of booking to ensure they are allocated an appropriate room. There is a £10 supplement charge for bringing your dog.
Note: Certain rooms are kept "pet-free" in order to cater to guests who may have a dog allergy.
Communal Areas
Dogs are not permitted in the restaurant.
Outside of food service, dogs are welcome in the bar.
During meal times dogs are not permitted in the bar. However, throughout the quiet season dogs may be permitted at the bartenders' discretion.
Well behaved dogs are welcome in the lounge area.
The hotel buildings date back to 1888, has immense character with thick stone walls, low ceilings and narrow doorways. We have disabled access but only with limited facilities at the moment. Should you require any assistance please do not hesitate to contact a member of staff.