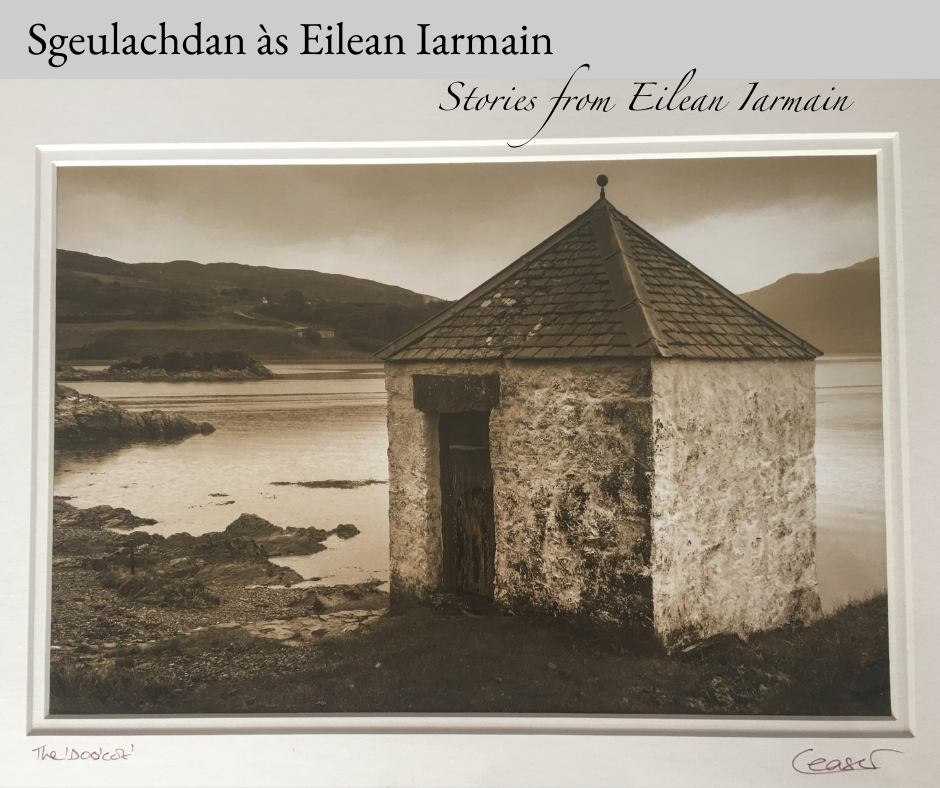 Dìreach tarsainn bhon t-seann chidhe cloiche tha an t-seann Taigh-beag seo a thathar a' creidsinn a bha na chiad taigh-beag poblach san Eilean Sgitheanach. Tràth anns na 1800n chaidh an taigh-beag dùbailte seo a thogail thairis air sgoltadh nàdarrach sa chreig, a bha ga fhàgail mar sin na thaigh-beag mara a bha a' ruith leis an làn.
Leis cho trang 's a bha port Eilean Iarmain an uairsin eadar bàtaichean smùid is bàtaichean-iasgaich, chan eil rian nach e faochadh mòr a bh' ann dhaibhsan a bha a' siubhal air muir an togalach beag geal seo fhaicinn air a' chladach. Gu deimhinne, leis cho mòr 's a bha iad a' dèanamh feum dheth, bhathas a' toirt iomradh air an àite gu h-ionadail mar Rubha an Fhàilidh!
Bha e aithnichte mar an doo'cot cuideachd, leis gun robh e na dhachaigh do chalmanan geala airson grunn bhliadhnaichean. Bha e am measg na togalaichean eachdraidheil a chaidh ath-nuadhachadh le Sir Iain Nobail anns na 1990an agus leis cho dèidheil 's a bha Sir Iain air a bhith a' crìochnachadh thoglaichean le sgeadachadh air choireigin, neo finial, dh'iarr e air fear a bhith air a chur air mullach an togalaich seo cuideachd. Ach gu h-annasach, agus 's dòcha gu h-iomchaidh, b' e ballcock a chaidh a chleachdadh!
Chaidh an dealbh àlainn seo a thogail leis an dealbhadair Chris Ceaser, a tha air a bhith a' tighinn gu Eilean Iarmain airson grunn bhliadhnaichean le buidhnean de dhealbhadairean. Thug e don taigh-òsta mar phrèasant e, far a bheil e a-nis crochte san t-seòmar suidhe.
Just across from the old stone pier sits the old Taigh-beag, believed to be the first public toilet on Skye. Dating from the early 1800s this double seater loo with a view was built over a natural crevice in the rocks, thus making it a seaflushing lavatory with each tide.
Given how busy the port of Eilean Iarmain was back in the day with puffers and fishing boats, it would certainly have been a very welcome addition to the shoreline for all those travelling by sea. Such was the extent of its use, the spot was referred to locally as Rubha an Fhàilidh (Smell Point)!
It was also affectionately known as the doo'cot, as it was home to a large number of white doves for many years. The tastefully proportioned "cludgie", to use an old Scots expression, was one of the many historic buildings restored by Sir Iain Noble. Sir Iain was very fond of finials and requested that one be put on the top. However what was actually, and perhaps aptly, used was in fact a ballcock!
This beautiful sepia photograph was taken by photographer Chris Ceaser, who has been coming to Eilean Iarmain with photography groups for a number of years. Gifted to the hotel it can be seen hanging in the sitting room.